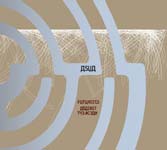 Asva is co-founded and lead by both G. Stuart Dahlquist (SUNN 0))), Burning Witch) and B.R.A.D. (Burning Witch). The first incarnation of Asva featured the guitar of Dylan Carlson from the drone rock band Earth. This incarnation of Asva recorded a song called "Caprichos 1-80" (recorded June, 2003). The song was released as one half of an o.o.p. split 12" vinyl picture disc (Dos Fatales Records) with Burning Witch on the flip side in September 2004.
But the sound expanded and excitement in the doom community built as the line-up shifted and expanded. Guitarist John Schuller (Master Musicians of Bukkake) was drafted, replacing Carlson. Also added was organist/instrument-tweaker Troy Swanson (chief apprentice for renowned sound-installtionist Trimpin). The band played live with this line-up until again stepping into the studio to work on a full length album in June, 2004. At this point, added to the line-up of Asva was Trey Spruance (Secret Chiefs 3 / Mr. Bungle) on guitar, piano and tubular bells and Jessika Kenney (Gamelan Pacifica / Black Horse) on vocals. To make matters worse, Billy Anderson (producer/engineer for bands like Sleep, Melvins, High On Fire, Fantômas and Sick Of It All) was brought in to assist in the recording of tracks for the album, which was already in the very capable hands of producer/engineers Randall Dunn and Mell Dettmer.
Asva completed its first tour during August/September 2004, sharing the stage with such bands as Khanate and High on Fire, to enthusiastic receptions. They are touring extensively in support of this, their first album, Futurists Against The Ocean.
Kill the Dog, Tie Them Up, Then Take the Money [mp3]
Beyonsense
Fortune [mp3]
By the Well of Living and Seeing