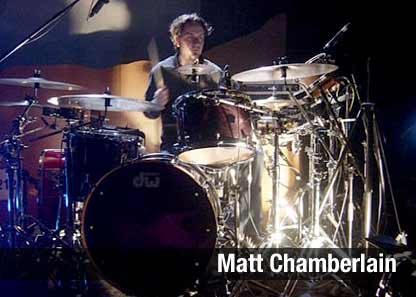 Born 1967 in San Pedro, Calif., Matt Chamberlain started playing airdrums at 2, graduated to pots and pans by 4 and was able to round up enough money to buy a drumkit at age 15. He started playing drumkit and taking lessons from David Garabaldi, Murray Spivack, Chuck Flores and Gregg Bissonette. At 18, Chamberlain got a music scholarship to North Texas State University where he was in the first place NTSU 1986 Drumline where he played snare. He shortly dropped out of college to paly in bands in Dallas' Deep Ellum Scene where he started Ten Hands, Billygoat and in 1989 was asked to join Edie Brickell and the New Bohemians after they recorded their first record. He toured with Edie and the New Bo's for a few years, did the second record, and when the band broke up in 1991 did a short tour and video with Pearl Jam (the "Alive" video, which was recorded live). After that, Chamerblain moved to NYC and was offered the Saturday Night Live house band gig in 1991 and did that for a season. Chamberlain moved to Seattle in 1992 and started the out groove band Critters Buggin with Skerik and Brad Houser which is still going on today. In 1993 he played with the band Weapon of Choice which toured with Fishbone for about six months then in 1995 got a call to record with The Wallflowers (Bringing Down the Horse) and around the same time 1996 met and recorded with Fiona Apple (Tidal, When the Pawn…) A versatile session player, Chamberlain has played the drums on albums for mainstream artists as diverse as Tori Amos, Keith Urban, David Bowie, Elton John, Garbage, Splattercell, Natalie Merchant, Liz Phair, Dave Navarro, Jon Brion, and William Shatner.

Future performances by this artist:

This artist has no shows currently listed in the Calendar.

Matt Chamberlain


(WoM 026) - 2005

Prompted to creation, in a way, by the legendary session drummer Hal Blaine's under-appreciated record Psychedelic Percussion, Matt Chamberlain's debut solo record conjures up the forgotten possibilities of the good old "drummer and studio" paradigm. The record ends up functioning like a semi-sordid dream intertwined with '70s movie memories (think Telly Savalas and Enter the Dragon.) It's easy to picture zombie karate fights taking place in lush overflowing gardens, and out-of-place Italian furniture being cracked over heads. You almost hear the appropriately thrown-together orchestra being directed by a genetically altered Georgio Moroder right there on the set... and that creeps you out during the few genuinely romantic sex scenes. Kind of like Goldfrapp, Chamberlain has ignored the rules of passe and boldly crafted a sleek and palpable form of post-trendy, modern exotica. Utilizing the all-pro string arrangement skills of Eyvind Kang, percussion instruments from far off places and planets, archaic electronics, analog sythesizers, outer space spaghetti western guitar, and sonically mutilated drum-kits of every size and make, Chamberlain's debut album is a full-bodied record that will sit proudly next to Lalo Shiffrin, Autechre, Martin Denny, Amon Tobin, David Axelrod, Hal Blaine and Critters Buggin records.

Cheeky
Monday
Eel
Abstretch
Tsunami
Haaa!
Cagey
Pole Glitch
Moomoo
Give Me Some Water