prev review | next review | index
Vassilis Tsitsanis — 1936-1946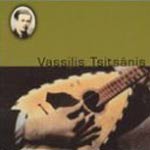 Remember how you went out and got those Rembetica CDs a few years back? What was it? Zorn, the Secret Chiefs 3, Estradasphere or some other jerks who got you onto that? Oh no no, you were totally into it before Zorn was, huh? Wow, you must be really on top of it. Hey, we're just glad we got some good CDs to listen to while it was all trendy. That was still neat how some of the jaded bastards at radio stations in New York and Berkeley were playing this stuff late at night... now that the fickle fuckers only play sub-high life music from Ghana maybe it's time to take a trip back down Rembetica lane while no one's looking.
You've heard some of these songs before, but these here will probably be different performances. The recordings were made right in the kill zone of the '30s and early '40s, and there are a few more instrumentals than usual, which we think is cool. And though the tragic elements are there in good supply, there are also some flights out of the dirge zone into more uptempo dare we say 'shredding' that are somewhat unique to what we previously knew of this music. Makes one wonder about what the other compilers left on the chopping floor in their quest to portray the "Greek Blues" to all of us salivating '90s kultur-vultures...
Man, this CD is arguably the best one out of all of them. If you loved all that Vamarkis stuff, "My Only Consolation" and Roza Eskanazi as much as we did, this one's really going to do it for you. There were so many good CDs, but somehow we missed this one until a few years ago. Our theory is that it was getting stocked in the general Greek or Bouzouki section during the two or so years that there was a Rembetica section in stores, or just wasn't a popular title, because we never saw it. Since Tsitsanis is the Bouzouki player and not the singer it's not an unfathomable theory. But maybe we're just stupid and this isn't even Rembetica. Who knows? Surely one of the jaded bastards will educate us...
In the meantime we'll drown our ignorance in the sorrow and life-force evoked in this music.
You should do same.
prev review | next review | index