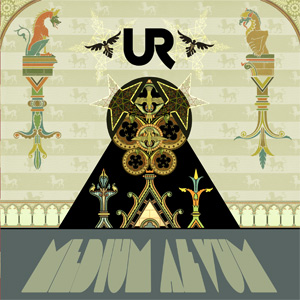 The UR piece, "Medium Aevum" is the original of a song Ishraqiyun has been covering for many years, familiar from SC3 live gigs (but never recorded). Here it is heard in its radically different «original» fuzzed-out format.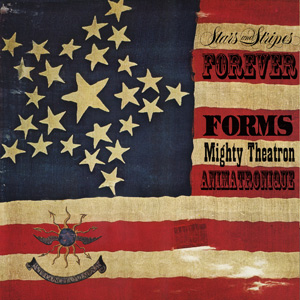 The flipside is FORMS' energetic and comprehensive piano-roll band organ rendition of the Sousa masterpiece, "Stars and Stripes Forever." Faithful in all details to the original composition, the tune gets a temperamental update according to the mood of the times. It's all done on the decaying early 20th Century devices of the FORMS «Mausolée Mécanique», which here are manipulated by Matt Lebofsky's decrepit fingers, William Winant and Kenny Grohowski's dusty beaters, Timba Harris' rat-chewed piccolo bowings, and Spruance's endlessly cobwebbed weavings.
Mighty Wurlitzer Pipe Organ -plus- SC3 rhythm section renditions of Saint Saens' "Danse Macabre" (heard live lately) and Spruance's "Apocryphon of Jupiter" (never heard). Features the Golden State Theater Mighty Wurlitzer in Monterey, CA, augmented by the band's live magic organ rig, all played by the just-mentioned cast of «Mausolée Mécanique» mannequins. Photo collage artwork all from shots at House on the Rock taken/assembled by Spruance.
Note: on our February tour this one will likely only be available from Santa Ana onwards.
Disclaimer:
Some will undoubtedly be wondering, yes, some (but not all) of these «singles» tunes are slated to come out later on «albums» (not on Book of Souls: Folio B). As is the tradition, those versions will be significantly (or even radically) different. We have learned that there are some who seem to feel a bit sour about «singles» coming out before «albums». So, in order that no one gets that sour taste again, we recommend that, if you are one of the very few afflicted by this phobia, that you avoid acquiring these items. You might also need to avoid listening to the inevitable crappy rips on youtube. We do hope that your enjoyment of the very different album versions won't be ruined!